Ann Arbor's medical marijuana regulations would limit the number of dispensaries inside the city limits to no more than 20, at least for the first year.
Ryan J. Stanton
AnnArbor.com
After more than three months of deliberations, the Ann Arbor City Council voted for the first time Monday night to move a proposed medical marijuana licensing ordinance past first reading.
The vote came unanimously after some final tweaking of the ordinance, which regulates dispensaries and cultivation facilities within the city limits.
The ordinance now moves on for final approval on April 19, which is a Tuesday — a deviation from the council's normal Monday meeting night. A proposed medical marijuana zoning ordinance also is expected to come back for final approval the same night.
It wasn't planned, but the expected final approval comes just in time for 4/20, a sort of countercultural cannabis holiday when marijuana advocates throughout the country light up in celebration and, in some places, participate in events advocating for decriminalization of pot.
The City Council took action Monday night to extend the city's moratorium on medical marijuana businesses through June 30, giving the council some leeway on making a final decision if it should need it. The moratorium has been in place since last August.
City officials estimate there are about 15 to 18 dispensaries in Ann Arbor. They think there could be a few that won't be allowed at their current locations under the zoning ordinance.
The licensing ordinance would have the city doling out a limited number of dispensary and cultivation facility licenses once the moratorium is lifted.
Operations that were up and running prior to the moratorium last August would have up to 60 days after the ordinance takes effect to submit an application for an annual license. No other applications would be accepted until 75 days after the ordinance takes effect.
The first year's licenses would be capped at a number 10 percent higher than the licenses applied for in the first 60 days, but not more than 20 dispensaries and 10 cultivation facility licenses. So, if there really are 15 to 18 dispensaries in Ann Arbor, and all of them seek licenses, no more than two additional licenses would be available to new dispensaries.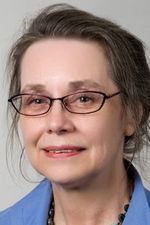 Sabra Briere
Council Member Sabra Briere, D-1st Ward, led the way Monday night as the council worked through a number of amendments to the licensing ordinance. Briere dropped her request for the city to adopt a non-disclosure policy on patient and caregiver information, noting that the reworked licensing ordinance doesn't involve the city collecting any personal information.
After some tweaking, the ordinance now states that a cultivation facility or dispensary must keep records of the caregivers from whom they receive marijuana in any form and must make the records available to the city upon request to promote health, safety or welfare or to otherwise verify compliance with the licensing ordinance.
Required labeling information, including coded patient and caregiver information, also must be kept and made available for inspection. Marijuana package labels must include the following:
A unique alphanumeric identifier for the person to whom it is being delivered.
A unique alphanumeric identifier for the cultivation source of the marijuana.
Notice that the package contains marijuana.
The date of delivery, weight, type of marijuana and dollar amount or other consideration being exchanged in the transaction.
A certification that all marijuana in any form contained in the package was cultivated, manufactured and packaged in the state of Michigan.
The name, address, email address and phone number of an authorized representative of the dispensary whom a patient can contact with any questions.
The name, address, email address and phone number of at least one governmental or nonprofit organization that may be contacted by a patient who has concerns about substance abuse of drugs, including marijuana.
A warning stating that the product is manufactured without any regulatory oversight for health or safety, and that there may be health risks associated with its use.
The council also tweaked the ordinance to state that license applicants must install signs in a visible location with the following statement in letters no less than an inch tall:
"The Michigan Medical Marihuana Act acknowledges that 'although federal law currently prohibits any use of marihuana except under very limited circumstances, states are not required to enforce federal law or prosecute people for engaging in activities prohibited by federal law. The laws of Alaska, California, Colorado, Hawaii, Maine, Montana, Nevada, New Mexico, Oregon, Vermont, Rhode Island and Washington do not penalize the medical use and cultivation of marihuana. Michigan joins in this effort for the health and wellness of its citizens.' See MCL 333.26422(c). If you have any questions or concerns please consult with your attorney."
The council voted in favor of an amendment proposed by Council Member Sandi Smith, D-1st Ward, to state that caregivers growing marijuana inside their own homes do not need licenses but may voluntarily register with the city by providing their home address.
"I don't know if anybody will choose to volunteer that information," Smith said, though she noted it could help make sure legitimate caregivers' homes aren't raided. "To avoid that, you could register. The police would know this was a caregiver's house."
The council also clarified duties of the proposed medical marijuana licensing board, which would be created through the ordinance. The licensing board would consist of one council member, one physician and three other Ann Arbor residents — all of whom would be appointed by the mayor. The board would review annually and recommend the licensing criteria, number of licenses, license fee structure, and approval of license applications.
"The board that you've established may want to look at the records to identify where this product is coming from," City Attorney Stephen Postema told council members, adding that could be to confirm that the marijuana is from Michigan or to investigate health complaints.